Shell was ordered to shut down North Sea Armada platform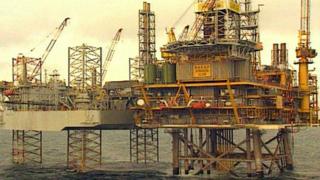 Shell was ordered to shut down a North Sea platform by health and safety inspectors over concerns that corroded pipework could cause an explosion.
Inspectors found a section of the flare system on the Armada installation, 132 miles east of Aberdeen, was damaged.
The thickness of the pipe should be 7.1mm, but an inspection in June found it was about 1.6mm.
A prohibition notice was served, but Shell said production had resumed in July after improvements were made.
The company has been served with six safety notices for incidents in the North Sea since May.
The HSE said the Armada incident could have led to a gas leak, fire or an explosion.
The installation was previously operated by BG Group, which is now owned by Shell.
'Top priority'
A Shell spokesman said: "Shell UK can confirm that we received a prohibition notice on 19 June in relation to the flare system on the Armada platform in the central North Sea.
"We have completed the necessary improvement work as stipulated under the prohibition notice and the platform returned to production on 9 July.
"Shell UK also received two improvement notices on 22 June 2017 in relation to both pipework and heating and ventilation integrity on our Brent Charlie platform in the northern North Sea.
"Work is ongoing on the Brent Charlie platform to complete the necessary actions required by the improvement notices.
"Shell's top priority is the safety of our people, the environment and our assets."
Earlier this month it was revealed Shell had been issued with a prohibition notice by health and safety inspectors over a gas leak on its Brent Charlie platform.
The installation, 115 miles north-east of Shetland, was shut down following the escape in May, and more than 30 workers were taken off.
Also earlier this month, the HSE said BG failed to install gas detection equipment first recommended 14 years ago.
The HSE said the adequacy of fire and gas detection systems aboard the Lomond gas platform could not be demonstrated.