Crab fishermen off Orkney taken to safety in Scrabster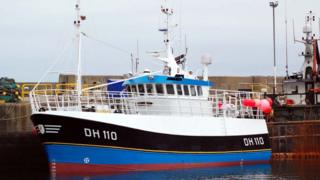 Eight crab fishermen have been escorted to safety by lifeboats after their boat rapidly started filling with water.
Coastguard and lifeboat personnel responded to the incident involving the vessel Kingfisher north-west of Orkney.
Its problems started at about 17:30 on Sunday when water started leaking from a burst pipe.
They were accompanied to Scrabster on the Scottish mainland by RNLI lifeboats from Stromness and Thurso.