Repsol Sinopec Resources UK warns of 80 North Sea job losses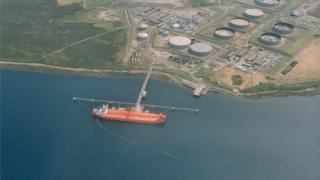 A North Sea oil company has warned about the potential loss of about 80 jobs.
Repsol Sinopec Resources UK said it would be undertaking a consultation process.
The Aberdeen-based business was formed in 2015 when Repsol bought the global assets of the former Talisman Energy.
It has interests in 52 fields, operating 41 of them, and has 12 offshore installations and two onshore terminals at Flotta and Nigg Bay.
A company spokesman said: "We've made significant progress in the last two years, safely increasing production and reducing costs.
"We've successfully completed our major capital projects MAR and Flyndre, and several of our assets have moved into decommissioning. At the same time we're challenging how we perform our core business functions, prioritising value-adding activities and eliminating waste. As a result, our group activity levels have significantly decreased this year.
"We now need to reduce the size of our organisation to reflect the new requirements of the business, as well as the 'lower for longer' economic outlook. Consequently we'll be undertaking a consultation process and envisage the number of staff positions will be reduced by 80."
He added: "We are putting in place robust Management of Change measures which will ensure we continue to prioritise safety, asset integrity and protection of the environment during this process."