Aberdeen manager urges backing for 'game-changing' new stadium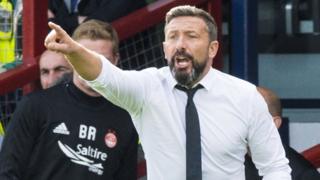 Aberdeen FC manager Derek McInnes has said a new stadium and linked training facilities is a vital "game-changer" for the club.
The £50m project would be at Kingsford, near Westhill.
Backers and objectors have been taking their chance to make their points at a hearing at Aberdeen Town House.
The club manager told the hearing he realised on his first day in the job in 2013 how bad training facilities were, and that change was needed.
He said the club was "bottom of the league table" for training facilities.
'Biggest decision'
The manager warned: "Others will leave us in the distance. Our performance and results will drop, leading to smaller crowds.
"How do we want Aberdeen to be regarded? Modern state-of-the-art facilities, or do we just stay as we are?
"It's the single biggest decision for this football club."
Edel Harris, of Aberdeen FC Community Trust, said many groups could benefit from the proposals for Kingsford, including those with disabilities.
However, Audrey Findlay, of Westhill and Elrick Community Council, said they could not remain neutral.
She said the proposed site was the last piece of green space between Aberdeen and Aberdeenshire, and that greenbelt policy was being swept aside.
She said she had been "shocked" by some social media attacks over concerns about the stadium plans.
'Ignore hype'
Ian Cox, of Kingswells Community Council, also expressed concerns, including visual impact.
He said: "Please ignore all the hype".
In reply to questioning, Mr Cox stressed it was the last piece of green space between two communities.
The hearing, which began at 09:30, finished shortly after 17:30, and all participants were thanked.
A final decision is due to be made in October.
Objectors have called for the club to look elsewhere, raising concerns about traffic, parking and noise from the development.
More than 100 people staged a demonstration as members of the planning development management committee visited the site on Monday.