Bags to be searched before Aberdeen FC stadium hearing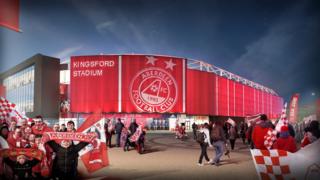 Bags will be searched for items such as megaphones or placards that could disrupt a public hearing about the plans for a new Aberdeen FC stadium.
The £50m project - including training facilities - would be at Kingsford, near Westhill.
Backers and objectors will have their chance to make their points at a hearing at Aberdeen Town House on Wednesday morning.
The council said bags belonging to the public would be searched.
Any items deemed inappropriate will be confiscated.
The hearing starts at 09:30.
A final council decision is expected to be made in October. Councillors made a site visit earlier this week.
Aberdeen FC chairman Stewart Milne has warned that the club faces playing European games in Glasgow or Edinburgh in future.
He was talking at a campaign launch to support the new stadium to replace Pittodrie, which he said would soon not meet the criteria to host Uefa games.
However, objectors have called for the club to look elsewhere.
They have raised concerns about traffic, parking and noise from the development.
More than 100 people staged a demonstration as members of the planning development management committee visited the site on Monday.