New Aberdeen FC stadium could be derailed even if approved
By Rebecca Curran
BBC Scotland reporter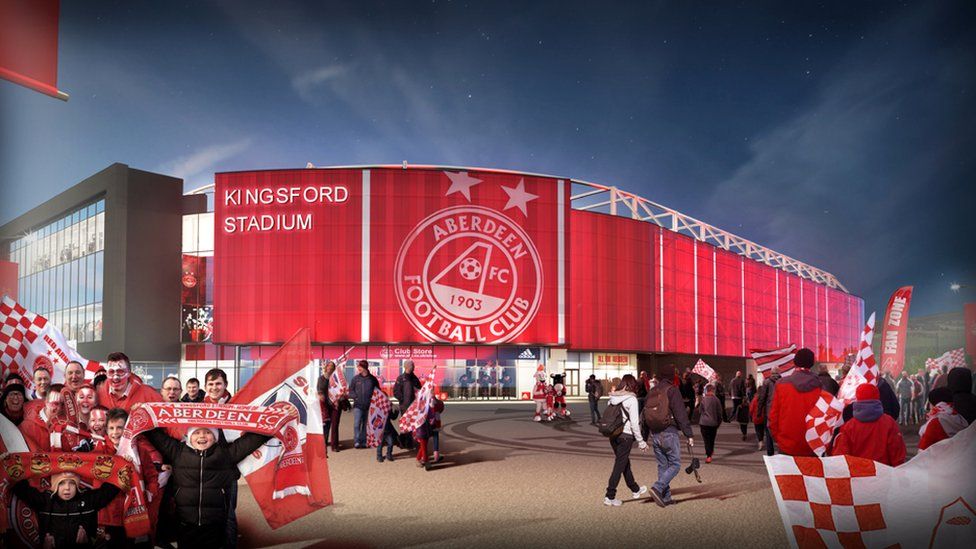 Aberdeen FC's new £50m stadium plan could be derailed even if it is approved by the city council.
The stadium and training facilities would be at Kingsford, near Westhill.
Although the final decision is a matter for Aberdeen councillors, Aberdeenshire Council will have to agree to a controlled parking zone (CPZ) and a proposed footbridge - both considered crucial if the project is to go ahead.
The proposed location is about 200m beyond the Aberdeen bypass, close to the boundary between both councils.
But Aberdeen city councillors will make the final decision on the planning application.
A pre-determination hearing last week was told that if either the CPZ or footbridge were undeliverable, city roads officials would recommend the planning application was refused.
The proposed CPZ for Westhill lies wholly within Aberdeenshire.
It would be similar to the scheme in streets around Pittodrie that governs parking on match days.
Aberdeenshire Council currently has no controlled parking zones in force.
Aberdeenshire's director of infrastructure services, Stephen Archer, said in a written submission: "The application can only be considered acceptable if the likely impact is sufficiently mitigated through a legally enforceable CPZ that remains in place in perpetuity and is funded by the applicant (AFC).
"The planning and legal process for achieving this would have to be fully demonstrated by the applicants and considered acceptable by Aberdeenshire Council."
The proposed footbridge over the A944 lies partly within Aberdeenshire and partly within Aberdeen City.
It has been agreed that Aberdeen FC would pay for both the CPZ and footbridge.
Aberdeenshire Council said it had a number of concerns about the footbridge and such a structure would require planning permission in its own right.
The local authority says it has not yet had the opportunity to fully consider whether such a proposal would be acceptable in the proposed location.
The official submission concludes: "The provision of these measures are crucial to the success of the transport strategy and even if they progress to a point where both are capable of being delivered, the mechanism requires detailed discussions.
"It is therefore considered that the risk of significant adverse impacts to the Aberdeenshire transport network remains too great for the proposal to be accepted."
Aberdeen FC chairman Stewart Milne has described Kingsford as "an ideal location for supporters".
However, campaign group No Kingsford Stadium argues that it is green belt land and the development would have a hugely negative impact locally.
They have called for the club to look elsewhere, raising concerns about traffic, parking and noise from the development.
Aberdeen City Council is expected to consider its final decision on the planning application at a full council meeting on 11 October.
Related Internet Links
The BBC is not responsible for the content of external sites.