Call for walls for Aberdeen street Nuart festival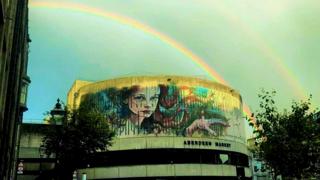 Organisers of a major street art festival which saw paintings appear on buildings across Aberdeen are calling for new walls to help the 2018 return.
Nuart - which has taken place in Stavanger, Norway, since 2001 - was successfully introduced in Aberdeen in April.
Efforts are now under way to find businesses and property owners willing to help next year.
Nuart can be contacted on 01224 566291 and callforwalls@aberdeeninspired.com
Martyn Reed, director and curator of Nuart, said: "The artists, team and partners had an incredible first year in Aberdeen, a truly remarkable event that we took a lot of credit and accolades for alongside our partners, Aberdeen Inspired.
"We can't wait to see what comes in and to get feedback from artists who will be with us next year.
"We'll be in town shortly to scout locations, and the more options we get the better."
Walls must be in a good condition for painting.
Images both large and small appeared on city buildings this year.