Detained Malaviya Seven ship withdrawn from auction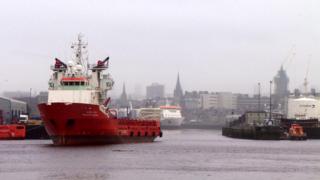 A ship detained at Aberdeen harbour for more than a year because its crew has not been paid has been withdrawn from auction.
The Malaviya Seven was detained in June last year, and again in October, under merchant shipping regulations.
The International Transport Workers' Federation (ITF) said the 24 crew were owed more than £600,000 in total.
The auctioneer withdrew the vessel from sale after only receiving a bid of £300,000.
Dominic Daly said he would try and negotiate a better deal with the man who entered the bid.
Mr Daly credited the crew for maintaining the ship and said the Malaviya Seven was in excellent condition.
He expressed disappointment that there were not more bids.
Liam Wilson, from the International Transport Workers' Federation, said the crew would be "downhearted", but added: "It's not over, it's just the start."
A sheriff had ruled last month that it could be sold at public auction.
There had been reports of interest from potential buyers all over the world ahead of the auction in Aberdeen.
It was hoped the Indian crew could be paid within two weeks of the vessel being auctioned off.
Six crew members headed home earlier this month, amid emotional scenes at Aberdeen International Airport.
The remaining six are staying until the ship is sold.
The men have not seen their families for more than 17 months.