Report into BP offshore oil spill off Shetland submitted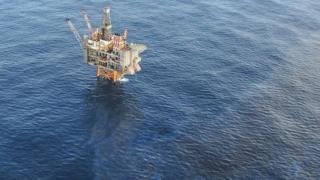 A report into an oil spill from a BP platform off Shetland has been submitted to prosecutors, the BBC Scotland news website has learned.
An estimated 95 tonnes of oil was released into the water from the Clair platform in October last year.
The Crown Office and Procurator Fiscal Service (COPFS) said the Department for Business, Energy and Industrial Strategy had submitted a report.
The report is now under consideration of the Health and Safety Division.
The Clair platform is 75km (46 miles) west of Shetland.
It was shut down after the leak, but production restarted three weeks later.
MSPs were told at the time it was "lucky" that more serious damage had not been done to the environment.