Potential buyers to view detained Malaviya Seven in Aberdeen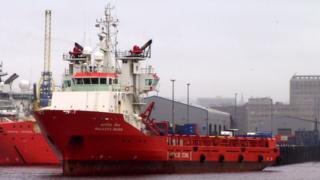 People who have expressed an interest in buying a supply ship detained in Aberdeen for more than a year are expected to visit the vessel on Thursday.
The Malaviya Seven was detained in June last year, and again in October, under merchant shipping regulations.
The 24 crew are understood to be owed almost £700,000 in total.
The vessel failed to sell at auction earlier this week but a number of potential buyers are set to view it.
The auctioneer withdrew the vessel from sale after only receiving a bid of £300,000.
A sheriff had ruled last month that it could be sold at public auction.