Pedestrian and cycle plan from Aberdeen City Council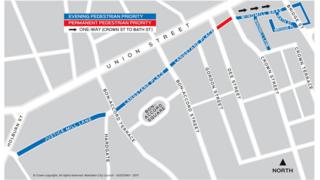 Three Aberdeen city centre streets could become pedestrian and cycle-only from evenings into early morning, under council proposals.
Justice Mill Lane, Langstane Place and Windmill Brae are the focus of the plan, aimed at "enhancing evening activity".
The proposal is to make the three streets pedestrian and cycle routes only in the evenings, through the night and into the early morning.
This would also be seven days a week.
Views sought
The council is also considering permanently banning vehicles from a short stretch of Langstane Place between Dee Street and Crown Street, and the permanent introduction of a one-way section on Windmill Brae between Crown Street and Bath Street.
Local businesses and residents are being asked for their views on the plans.
A report is expected to to go before the council early next year.