Coastal road at Crovie to be closed until spring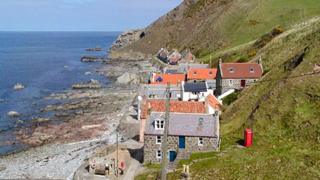 A coastal road leading to an Aberdeenshire village will be closed until spring as engineers try to stabilise it.
The Bracoden to Crovie road has been closed to vehicles since September due to safety concerns.
The road surface has been monitored following Storm Frank in January 2016 and has deteriorated.
Aberdeenshire Council said it was being investigated, but stabilisation works could start in mid-January.
That could take up to eight weeks, with the road re-opening by mid-March.
'Cannot be avoided'
The local authority said a plan has been agreed with the emergency services to ensure access in the meantime.
Philip McKay, head of roads, landscape and waste services, said: "Clearly, after inspecting the road stability this is a necessary road closure in the interest of public safety and cannot be avoided.
"However, we apologise for any inconvenience and thank residents for their co-operation.
"We are progressing plans to address the problem as quickly as possible and will aim to keep the community informed of progress towards reopening the road to vehicles."