Council and business leaders vow to revive the 'Granite Mile'
By Ken Banks
BBC Scotland North East reporter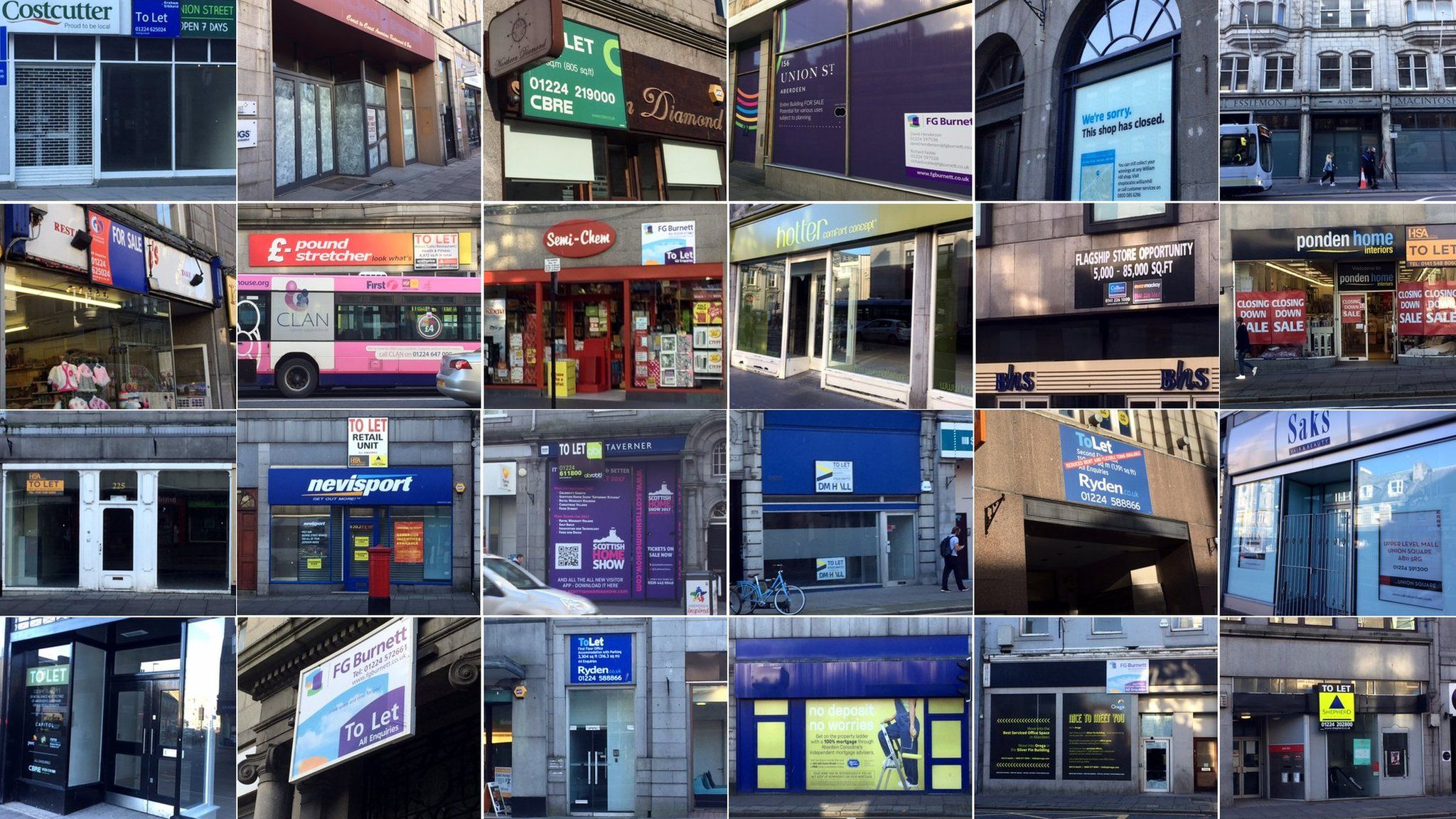 Council and business leaders have vowed to turn around Aberdeen's once flagship shopping street's fortunes, as BBC research found a tenth of its prime retail space is empty.
Union Street, which runs through the heart of the Granite City, boasts more than 180 street-level business spaces.
However, more than 20 are not in use or are closing down.
Union Street has become increasingly rundown as retailers move away to shopping centres.
Also known as the Granite Mile, it was once the city's main retail hub.
But it faces competition from nearby Union Square - described as Aberdeen's "premier shopping and leisure destination" - which opened in October 2009 at a cost of £275m.
The modern complex hosts shops, restaurants and a cinema.
Among the current Union Street businesses, the number of bookmakers and charity shops combined runs to 18. There are also more than 30 food outlets, coffee shops and bars.
John Michie, of long-established Charles Michie's Pharmacy on Union Street, said shoppers needed to be attracted back in from Aberdeenshire, alongside tourists with "discretionary spend" in areas such as golf tourism.
Mr Michie said: "I have 40 years of experience in Union Street, the problem now is footfall.
"We take it (closed shops) badly as it was fully let for decades.
"You need things to bring you back a second time with families."
The BBC Scotland news website found opinion divided among shoppers in Aberdeen.
Doreen Fraser, 67, said: "I have lived here for many years and have never seen it (Union Street) worse."
However Abigail Stevens, 23, said: "It may not have the sheen of Union Square, but I like the outdoors for getting between shops so I still use Union Street, it still has a decent choice.
"But a spruce up would certainly do no harm."
A business conference in December called Vanguard will look at various obstacles, such as how to make people use Union Street more, and how to get the region on the map as a serious European short break destination.
James Bream, director of research and policy at Aberdeen and Grampian Chamber of Commerce, said the north east of Scotland was going through a "broad transformation", with "significant investment" ongoing.
Mr Bream said: "Union Street is important as people remember it as the heart of our city centre.
"Identifying what is needed to make people of the area fall back in love with it is one of the key questions being addressed as part of the Vanguard Legacy initiative.
"The key for Union Street is not to think that it can be what it once was, that is just nostalgia.".
He added: "It needs to change and this has begun with multi-million pound investment in new offices."
Aberdeen councillor Marie Boulton is the local authority's lead on the City Centre Masterplan, which aims to find ways of transforming the heart of Aberdeen.
She said: "Union Street has been a jewel in Aberdeen's crown for generations - it is significant to the city's past, but we fully recognise its importance to future plans.
"The council recognises the challenges facing Union Street - which are not uncommon to high streets throughout the country as the retail and leisure landscape evolves."
She highlighted specific projects, including the Union Street Conservation Area Regeneration Scheme (CARS), where owners and occupiers of traditional properties will be encouraged to apply for grants to fund external repairs which are traditional in character and fit "Union Street's rich history".
Adrian Watson, chief executive of business-led initiative Aberdeen Inspired, said the city was not immune to the "evolving challenges" for high streets.
Mr Watson said: "Union Street and the wider city centre still enjoys relatively healthy footfall and although we have seen some familiar brand names leave our main thoroughfare, they are often replaced by exciting new entrants.
"Locally, we have seen fantastic growth in our flagship shopping centres, the envy of many other towns and cities."
He said "lots of great things" had been happening in the city centre, including the Nuart street art festival, which saw paintings appear on buildings across Aberdeen.
Mr Watson - who said Aberdeen still matched up well to other city centres - concluded: "We understand there is still much to do and we will continue to work with others to bring a wide range of innovative and ambitious events and initiatives to Union Street and beyond."
Related Internet Links
The BBC is not responsible for the content of external sites.