Trial over 1978 murder hears man 'died from seven stab wounds'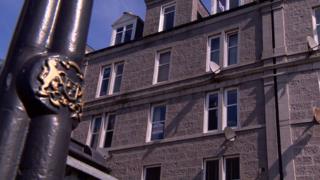 A man found dead in Aberdeen in 1978 had been stabbed seven times, a murder trial has heard.
Riasat Khan, 63, denies murdering Kazi Ahmad, 41, who owned the Raj Dulal restaurant in the city's Dee Street.
Mr Khan, from Cardiff, faces charges of murder and theft, and has lodged a special defence of self defence.
Forensic pathologist James Grieve told the High Court in Edinburgh that Mr Ahmad had been stabbed four times in the chest and three times in the neck.
Prosecutors closed their case against Mr Khan on Friday afternoon.
Allegations withdrawn
Advocate depute Jane Farquharson withdrew allegations from the murder charge.
She said she wanted to delete allegations that Mr Khan tied Mr Ahmad's wrists behind his back and then covered his head with an item of clothing.
And the prosecutor told judge Lord Beckett that she was withdrawing the charge which alleged that Mr Khan stole a knife from the Raj Dulal restaurant.
Lord Beckett then formally acquitted Mr Khan of the charge.
Mr Khan now faces a charge which alleges that he murdered Mr Ahmad on 13 October 1978 at Rosemount Viaduct by striking him on the neck and body with a knife. He is also alleged to have robbed a quantity of money from Mr Ahmad.
The trial continues on Tuesday.