Water contaminated on oil platform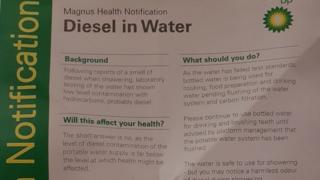 Workers on an oil platform were told to only drink bottled water after the water supply became contaminated.
The alarm was raised after workers smelled diesel while having a shower.
The incident happened on BP's Magnus platform, about 100 miles (160km) north-east of Shetland.
BP said very low level contamination was detected but not enough to be a danger to health. It added that it was confident the issue had now been resolved.
Further tests are being carried out as a precaution.
In a statement, BP said: "Following reports of possible contamination of the water supply on the Magnus platform bottled water was distributed and restrictions were placed on the use of the platform's potable water supply.
"Sampling of the supply showed there was some contamination at very low levels, far below that which may cause health issues.
"We have since flushed our potable water tanks and are confident that the contamination is no longer present. We are carrying out further tests of the supply as a precautionary measure and investigating the source of the contamination."