Damaged Aberdeen Lifeboat lock 'could have cost lives'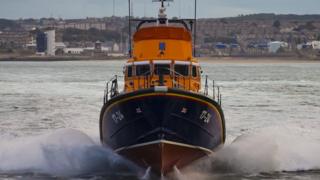 A lifeboat crew had to use power tools to gain access to their boat after a lock was damaged during an attempted break-in.
The Aberdeen RNLI crew discovered the damage when they arrived for a training exercise on Saturday morning.
Operations manager Bill Deans said it was a "shocking, mindless act" that could have cost lives had it been an emergency.
Police believe the attempted break-in happened on Friday evening.
The lifeboat, Bon Accord, is kept in a secure area of Aberdeen Harbour. The crew used power tools to cut off the damaged lock and hasp.
Mr Deans said: "This shocking, mindless act could easily have cost lives. Minutes matter in saving lives at sea.
"Imagine if the crew had been called out on a rescue overnight and had to cut their way into their own lifeboat. That delay could have prevented them from arriving in time to save a life."