Nine jobs for woman who sought quiet life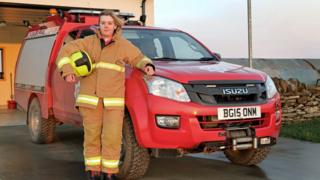 A woman who moved from Edinburgh to the most northerly island in Orkney for a quiet life has ended up with nine jobs.
Sarah Moore left a job with retailer Next in the Scottish capital nearly three years ago and moved to North Ronaldsay.
Since then she has become a firefighter, shepherdess, air traffic controller and digger driver.
The 26-year-old also delivers the island's post, is a baggage handler, carer, council clerk and tour guide.
As the island's youngest resident, Sarah said she first began working as a carer, but soon took on fire fighting duties and regularly puts in shifts as an air traffic controller at the tiny island airport.
'Too crowded'
With an average age of 65, North Ronaldsay currently has a population of just 45 people. Sarah said: "It's not an easy life here and it's not a place anyone comes to get rich in, but I love it.
"The city is too crowded and there's no greenery or scenery. For me there was just a dead-end job - retail work is not for me.
"It was lonely in Edinburgh, even though there are so many people.
"I lived in the same house for 23 years and I only knew the people to the left and right of me and here I know everyone."
Because of its tiny population, North Ronaldsay residents have little choice but to double up on jobs.
Giving tours around the island's famous lighthouse has also become one of Sarah's many responsibilities.
She added: "I like a bit of variety and that's certainly what I've got here - it can sometimes be hard to keep track of what jobs I'm doing on any particular day.
"I enjoy working at the airport the most: there's a lot of responsibility and it's more social than my other jobs since there's three other people."
Hardest working man
She added: "I don't really miss Edinburgh. I went back last month to help my parents move, but I never got that nostalgia feeling."
Despite her many occupations, Sarah still has some way to go before she equals that of fellow resident Billy Muir.
The 68-year-old sheep farmer was given a Pride of Britain award and dubbed Britain's hardest working man for holding down an incredible 20 jobs.
As well as serving as the island electrician, lighthouse keeper and rubbish collector, the father-of-two also serves as a firefighter, builder and airport worker.