Council funding withdrawn from Aberdeen International Youth Festival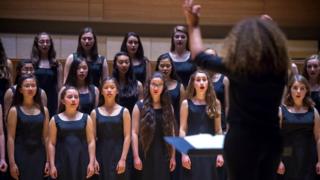 Aberdeen City Council has decided to withdraw its funding for the Aberdeen International Youth Festival (AIYF), BBC Scotland has learned.
The annual event has been running since 1973 and has hosted an estimated 30,000 young people from around the world over the years.
The decision on its 2018/19 budget was taken in a private session by councillors on Thursday.
The funding is thought to have amounted to about £120,000.
It is understood the decision was cross party and unanimous.
'Early engagement'
Lesley Dunbar, vice-convener of the Aberdeen City Council education and children's services committee, said: "Members of the committee intimated they are not supportive of funding being allocated to the Aberdeen International Youth Festival in the council's 2018/19 budget.
"It should be stressed that a final decision will be made as part of the wider budget setting process of the full council early in 2018.
"However, we felt it was important to engage at the earliest opportunity with the AIYF to ensure the committee's position is communicated and that adequate time is available for alternative funding options and business models to be explored by the festival's leadership team for future years."
She added: "This does not impact on the funding commitment already made as part of the 2017/18 budget."
AIYF artistic director Stewart Aitken is seeking meetings with the council over the situation.
He said he had no warning that the city council was about to remove its six-figure annual funding of the event.
It is not yet fully known what impact the funding decision will have.
The 2018 event is due to take place between 27 July and 4 August.
BP and Nexen have been among the event's main backers.
President Donald Trump's travel restriction plans were blamed for an acclaimed US choir pulling out of a tour to Aberdeen for the festival this year.
The San Francisco Girls Chorus (SFGC) - which took part in President Obama's inauguration in 2009 - was due to take part in the AIYF in July.