Archaeologists exploring the secrets of Sanday whales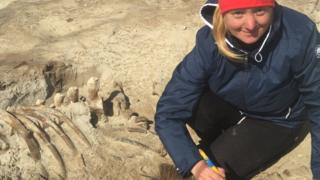 Archaeologists based in Orkney are investigating a number of 19th century whale skeletons recovered during a dig at a neolithic site.
The bones were buried in pits cut into the site at Cata Sand, in Sanday.
There are description in the historical records of a pod being stranded at the site, and buried when local people complained of the smell.
It is thought whales and other cataceans have been exploited for as long as people have lived at the site.
But it is not yet clear if these animals were deliberately forced onto the shore, or had been stranded accidentally.
Claire MacKay, who is investigating the bones, told BBC Radio Orkney: "There is evidence for groups using natural features to drive whales into shallows, and things like that.
"With these whales we aren't quite sure (if that was done"). That's one thing that various researchers are looking into.
"There is evidence for both active hunting and strandings but also passive, when we scavenge. So, this is an on-going tradition. It's not clear which we have here."
But there is no doubt that - however they came ashore - whale carcasses would have been exploited, in neolithic times and right up until more recent history.
"Whales and other cetaceans were a huge bounty", Clair MacKay said, "for fuel, meat, architecture - such as using whale ribs for building supports and roofing material - and also for artefacts, which continue to be found throughout Scotland, other areas of the UK, and across the north Atlantic.
So, what sorts of things were we making from whale remains?
"There is evidence of using the vertebrae, hollowing out the middle, and using them as a storage vessel. There's also evidence of using the big jaw bones of certain whales to make tools, because it's easy to work with."
As yet there is no definite identification of the species of whales recovered from Cata Sand but Claire MacKay says they could be long-finned pilot whales.
That could be confirmed when some DNA recovered from the bones is sent away for analysis.