Photographer suing over Craigievar Castle nude shots wrangle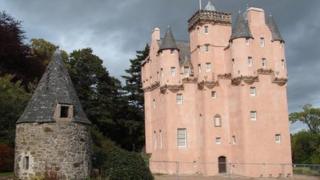 A photographer who claims his reputation was damaged in a row over a nude photo shoot in a Scottish castle is suing for up to £50,000.
Howard Kennedy and his wife Karen took a series of shots at 17th Century Craigievar Castle, near Alford in Aberdeenshire, in 2012.
However the National Trust for Scotland (NTS) later said it was "unauthorised".
Mr Kennedy argues he agreed a contract to shoot at the castle with a member of NTS staff and paid £200.
At London's High Court, Sir David Eady heard that the row erupted four years after the photo shoot.
The pictures of model Rachelle Summers came to the attention of Gabriel Forbes-Sempill, the daughter of Lord Sempill who had gifted the castle to NTS in 1963.
David Glen, for NTS, told the judge that it was in response to Ms Forbes-Sempill's outcry that it put out a statement that Mr Kennedy now claims was libellous.
Higher damages
The barrister told the judge: "Mr Kennedy's case is that he entered into an oral contract for the express purpose of shooting nude photographs of this nature.
"He further contends that NTS staff were fully aware of the specific nature of the photo shoot at the time, including via the oversight of at least one female member of staff, who is said to have supervised the photo shoot throughout, either in person or by way of CCTV.
"The National Trust for Scotland disputes this factual case."
Greg Callus, for Mr Kennedy at the preliminary hearing, argued that the case should be decided by an English judge as the photographer's "substantial business reputation in England" had been damaged.
In the English High Court, Mr Kennedy would have the potential to win "higher damages" and use no-win no-fee lawyers, the judge was told.
NTS however insists that the case should be decided in a sheriff court north of the border, where the events complained of took place and nearer to the homes of potential witnesses.
Sir David Eady has now reserved his ruling on where the case should be heard until a later date.