University of Aberdeen in South Korea campus courses wrangle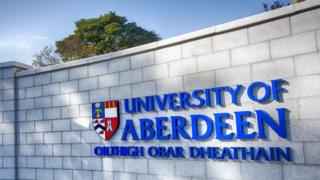 The University of Aberdeen has said talks are being held in a bid to settle a dispute over the delayed opening of a new campus in South Korea.
The announcement of a new campus at Hadong was made in 2015, offering courses in offshore oil and gas.
However the university said there had been reduced demand for the courses and it wanted to change the focus.
Reports have suggested possible legal action from local government officials over the project.
The campus was due to open in September last year.
The university said it wanted to change the focus to areas including decommissioning and renewable energy engineering.
A spokesman said: "The downturn in the oil and gas industry has led to reduced demand for the types of degrees in offshore engineering originally envisaged for Hadong, which has been clearly demonstrated by low application levels.
"Despite many efforts to adapt to the downturn and change the focus of the campus towards programmes which were more relevant to the new market conditions, we have not yet received the necessary support in Korea to achieve this."
Reports suggest the possible legal action mentioned by local government in the area is connected to the recouping money already invested in the project.
The university said talks would be held later this month in a bid to resolve the issue.