Police action at Aberdeen triple death tower block 'was appropriate'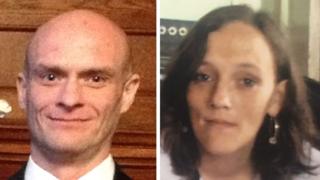 Police acted appropriately when they were called to an Aberdeen tower block where a man jumped to his death after apparently fatally stabbing two other people, a review has found.
Tracy Gabriel and Keith Taylor were found dead at Donside Court, in the Tillydrone area, in July last year.
Hugh Gallacher, 56, then fell to his death shortly after police arrived.
The Police Investigations and Review Commissioner (Pirc) said police acted appropriately and with professionalism.
The review said four officers were called to the tower block after reports from residents that a woman had been heard screaming and a man had been seen with blood on his hands.
Calming attempt
On entering the flat, they found Mr Taylor, 44, with stab wounds.
They then saw Mr Gallacher standing on the balcony of the flat.
The review said his hands appeared to be bloodstained and he shouted to the officers that he was responsible for inflicting the injuries to Mr Taylor and Ms Gabriel, 41, who was subsequently found on the balcony, also with stab wounds.
Two of the officers carried out CPR on Mr Taylor, while the other two officers attempted - over a three to four-minute period - to calm Mr Gallacher and persuade him to come back inside.
However, Mr Gallacher jumped after telling officers: "If they're dead, I'm joining them."
The officers carried out first aid on Ms Gabriel while others officers carried out first aid on Mr Gallacher on the ground.
However, all three died from their injuries.
'Tragic incident'
Commissioner Kate Frame said: "It is clear that officers attempted to persuade Hugh Gallacher to come back into the flat from the balcony but had limited opportunity to prevent him from completing his stated intention of suicide.
"They were confronted with very difficult circumstances but dealt with them appropriately and with a high degree of professionalism."
North East Divisional Commander Ch Supt Campbell Thomson said: "I acknowledge the outcome of this review by the Commissioner into what was a completely tragic incident that deeply affected one of our local communities.
"In common with the Pirc review, I recognise the professionalism of our officers who attended at the time and the appropriateness of their actions when faced with an extremely challenging and difficult set of circumstances.
"Our thoughts continue to be with all those families involved."