Leatherback turtle freed from rope and buoy by Orkney fishermen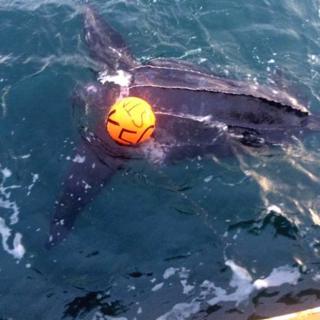 A leatherback turtle tangled in rope and a buoy has been freed by the crew of an Orkney fishing boat.
The vessel was off Shapinsay on Sunday when the fishermen spotted what at first they thought was just a rubber matt.
However, on closer inspection, they realised it was a leatherback turtle.
When it was initially cut free the buoy was still attached, so the crew went back to work and released the turtle completely.
Leatherbacks are the largest turtles on the planet.
'Swam away'
Glen Tait, one of the rescuers, told BBC Radio Orkney: "We just seen it kind of looked like an old rubber matt.
"The closer we got, it was weird, it was moving, we never realised it was a turtle. It's strange to see something like that in Orkney.
"It was about 5ft long and looked a bit battered. I couldn't believe how big it actually was.
"We got close enough to cut the rope but it swam away with the buoy still attached so we had to quickly get to it. It was difficult.
"We freed it and let it on its way."
Leatherback turtles featured in the last episode of the BBC's acclaimed Blue Planet II with David Attenborough on Sunday.