Forties pipeline shutdown 'worth £20m a day'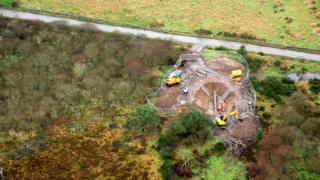 The shutdown of one of the UK's most important oil pipelines is worth about £20m a day, the industry body has said.
The Forties pipeline carries crude North Sea oil across land for processing at Grangemouth.
The crack was discovered last week near Netherley in Aberdeenshire and a 300m safety cordon is in place.
Deirdre Michie, chief executive of Oil and Gas UK, said: "We hope this can be resolved safely and as quickly as possible."
She said: "We have been in touch with Ineos and are closely monitoring the situation.
"The shutting down of the Forties pipeline does cause significant issues for our industry, financially, operationally and commercially - 40% of oil production is now shut in and the resulting lost production is worth around £20m per day at current oil prices to industry."
Operator Ineos said the pipeline was expected to be shut down for "weeks rather than days".
'Minimise impact'
Ineos apologised to "our customers and communities".
Speaking in the Scottish Parliament, Lib Dem MSP Mike Rumbles said people in Aberdeenshire were worried about the risk of further "undetected" cracks in the Forties pipeline.
Energy Minister Paul Wheelhouse said the Scottish government would be "seeking information from Ineos" in order to reassure people.
A controlled shutdown of the pipeline was completed overnight.
More than 80 platforms are having to suspend production.
Ineos said in a statement on Tuesday: "It is too soon to say how quickly the repair will take at this point but it is expected to be a matter of weeks rather than days.
"We are working closely with government and other stakeholders to minimise the impact of the closure as far as possible on communities, our customers and the country."