Both sides contacted in Israeli row in Aberdeen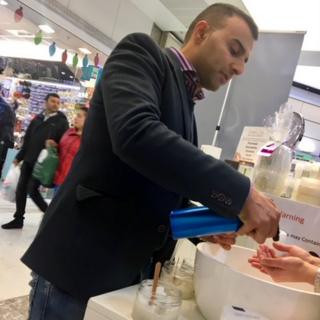 A body investigating claims by an Israeli businessman in Aberdeen that he is being hounded by campaigners who want him out of Scotland has said it has been in touch with both sides in a bid to find a resolution.
BBC Scotland told last month how Nissan Ayalon, who sells Israeli cosmetics, compared his treatment to "a game of chase the Jew".
He took his case the to Grampian Racial Equality Council (Grec).
Grec said investigations were ongoing.
The Scottish Palestine Solidarity Campaign earlier insist they were not racist or anti-Semitic, and they were only objecting to the selling of Israeli products.
Grec chairman Dr Philip Muinde told BBC Scotland that Grec was in touch with both sides.
Mr Ayalon previously had stalls in Belfast and Glasgow, but felt forced to close them down, and moved to Aberdeen where he said the treatment had continued.
Concerns over the issue have been raised a number of times in recent months in meetings at Aberdeen City Council.