Plea for dead fulmars to map marine plastic pollution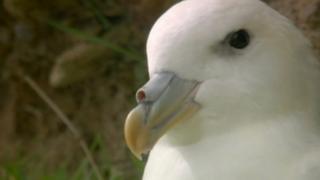 A marine ecologist based in Aberdeen is asking beachcombers around Scotland to send him dead fulmars.
Ewan Edwards says ferocious weather events, like Storm Caroline, usually mean dead birds being washed up on beaches.
A project, based at a university in the Netherlands, has been analysing the stomach contents of dead fulmars for more than 20 years.
It has found that 95% of birds around the North Sea have ingested plastic.
Martin Gray loves beachcombing in Orkney and has set up a Facebook group dedicated to the subject.
He took me to Skaill beach, just across the bay from the Skara Brae neolithic site, to see what we could find.
And to reminisce about a dead fulmar he'd found just a few days earlier.
It was totally tangled up in monofilament net.
"That was sad", he remembers. "It was just lying in the tide line, dead.
"But it its entire body was completely enmeshed in net."
No way of knowing, of course, how that netting had ended up in the water - accidentally, or deliberately discarded; the result of one vessel cutting through another's gear; or even of a fishing boat sinking.
But there is no doubt that it had caused the fulmar's death.
This was a graphic illustration of the problems plastic pollution can cause to all manner of marine life.
But the research project Dr Edwards is working on is looking at a much less obvious effect. Plastic in the stomachs of sea birds.
'Lunch box'
Effectively, it uses the fulmars as monitors by examining how much plastic they've eaten by mistake.
"The average number of pieces of plastic in a fulmar's stomach is around 34", Ewan Edwards told BBC Radio Orkney.
"If you scale that up to the size of an animal like a human, that would be like us having a lunch box full of plastic inside our stomach.
"As you can probably imagine, it's quite difficult to ingest and digest food if your stomach is full of plastic like that."
And birds washed up around Scotland's coast - and especially on Orkney's beaches - could be particularly important.
Most of the specimens the project has studied so far come from the southern end of the North Sea - Holland and Germany.
But there is evidence of "a latitudinal gradient" - in other words, birds from the south have ingested relatively more plastic and birds from the north, less.
'Birds in the freezer'
But Orkney is "the missing link, in this chain across the North Sea and the Norwegian sea."
So now anyone who finds a dead fulmar - specifically a fulmar, not other sea birds - is asked to contact Dr Edwards to see if can be useful for the study.
Martin Gray has already done that.
So his dead fulmar is in the post, along with everyone else's Christmas cards and parcels, on its way to Aberdeen.
He says he's triple wrapped it to keep it secure.
And he's relieved, because it means he'll no longer have to keep dead birds in the freezer at home.