Forties pipeline repair 'complete by Christmas'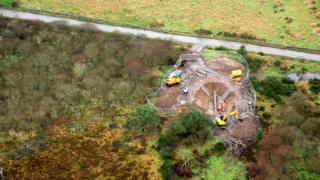 Repairs to one of the UK's most important oil pipelines after a crack was discovered are expected to be completed by about Christmas.
The Forties pipeline carries crude North Sea oil across sea and land for processing at Grangemouth.
The crack was discovered this month near Netherley in Aberdeenshire and a safety cordon was put in place.
Operator Ineos said the pipeline was expected to be back to normal rates early in the new year.
In a statement, the company said: "As work on the pipeline continues, Ineos has initiated the planning phase necessary to begin recommissioning the system, including the Kinneil facility, as soon as the pipeline repair is complete.
"Initially, a small number of customers will send oil and gas through the pipeline at low rates as part of a coordinated plan that allows Ineos to carefully control the flow into the system. "
Industry body Oil and Gas UK has said the loss in production is worth about £20m per day.
More than 80 platforms have had to suspend production.
A precautionary safety cordon at Red Moss remains at 150m.
The unclassified Netherley to Cookney road remains closed.