Celebrity chef Nick Nairn assaulted in Aberdeen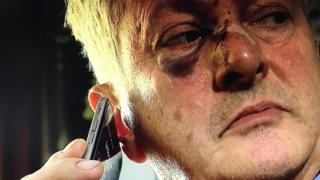 Celebrity chef Nick Nairn has been assaulted in Aberdeen.
The 58-year-old chef - known from the BBC's Ready Steady Cook and Landward - said he was attacked in Union Street by two "feisty chaps" at about 01:00.
He was taken to Aberdeen Royal Infirmary for treatment, and later said: "I am fine - I look a fright."
Police Scotland said they thought that two men wearing black jackets and jeans may have information that could help with their inquiries.
The chef said incident, which took place near Union Street's junction with Union Row, happened after he left his cook school with operations manager Julia Forster.
'Hitting with handbag'
Mr Nairn told BBC Scotland: "Two guys in their mid 20s said something, I probably had a smart reply.
"One punched me in the face. I think I blanked out, and came to covered in blood.
"Julia, who I was with, was hitting these guys with her handbag. They ran off.
"Full marks to the citizens of Aberdeen, one phoned 999, one helped Julia, one put something under my head."
He added: "I just hope these guys get caught and don't do it again, or others think about what happens if you hit somebody in the street.
"I am sure they will find out who it was.
"When it comes out of nowhere it unsettles you, and makes you think what might have happened. I am actually quite lucky."
PC Alan Gordon said: "With festive celebrations ongoing, Aberdeen city centre was busy last night with people out socialising.
"I would ask that if anyone saw this incident to contact us."
Nairn joined the merchant navy at 17 and was on the way to being the master of a 40,000 tonne vessel when he announced he was going to be a chef.
A few years later he opened his first restaurant.