Oil and gas flows through Forties pipeline again after crack repaired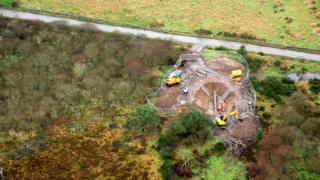 Oil and gas has started to flow through one of the UK's most important pipelines after a crack was repaired.
The Forties pipeline carries crude North Sea oil across sea and land for processing at Grangemouth.
It was closed after a crack was discovered at the start of December near Netherley in Aberdeenshire and a safety cordon was put in place.
Operator Ineos said it was now allowing a limited flow through the pipeline while it tests the system.
The company expects the pipeline to be fully operational early in the new year.
Ineos said in a statement: "A small number of customers are now sending oil and gas through the pipeline at reduced rates as part of a coordinated plan that allows Ineos to carefully control the flow and pressure in the system."
Industry body Oil and Gas UK has said the loss in production while the pipeline was closed was worth about £20m per day.