Old Stromness log pull street game returning after 80 years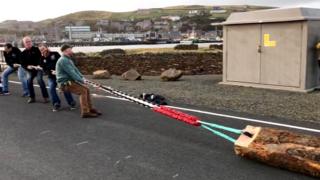 A tug of war game using a log which was effectively outlawed 80 years ago is to return to the streets of Orkney.
The last known game of Yule Log - which saw teams from opposite ends of Stromness trying to drag a giant log back to their own territory from the town centre - was played in 1937.
Participants would sneak into a garden and cut a tree down to use, until the town council threatened prosecution.
Two teams will finally once again do battle on Hogmanay.
No consent
Local youths would take a suitable tree from a town garden, attach ropes and chains to either end, and split into north and south teams.
However the town council outlawed the cutting down of trees for the game if it there was no written consent from owners, some of whom were rumoured to sleep in their garden to prevent such a theft.
The younger generation lost interest as a result, and the game died out.
Year of celebrations
The event - which is being supported by EventScotland's Winter Festivals Fund - is returning to close a year of celebrations for Stromness which has been marking 200 years since it became a Burgh of Barony in 1817.
Scores of people have signed up to take part in the challenge.
The log itself weighs more than 400kg.
Kirsty Groundwater, one of the organisers, told BBC Scotland: "It's basically a tug of war involving people from the north end of the town and people from the south end of the town with a big log in the middle of them.
"The log itself is about 3.5m long and 15in in diameter, we've then got big ropes attached to end of it.
"This is something that is unique to Stromness."
Regular tradition
The event will start from the town's Pierhead area at 14:00 on Hogmanay.
It is hoped it could again become a regular tradition.