Bid to boost small Orkney island's population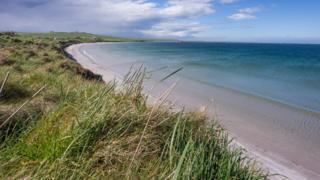 An island community has started a campaign in an effort to attract more tourists and residents.
Stronsay, one of the Orkney islands, has a population of about 300 people.
The community has a new website which it hopes provides potential new residents and visitors with a "behind-the-scenes" look at life on the island.
Stronsay currently attracts 600 visitors each year, who arrive on a regular ferry or by plane from Kirkwall.
A community group on the island hopes to double tourist numbers over the next three to five years.
It has approached VisitOrkney, VisitScotland and Orkney Islands Council to seek support for the marketing campaign.
Dianne Riley-Moore, who retired to Stronsay seven years ago from London and opened a craft centre on the island, said: "We've invested in a new brand and website for Stronsay because we want our beautiful, wild island and its community to be sustainable and vibrant.
"Stronsay has one of the most diverse shorelines in the North Isles.
"We have unspoiled white beaches and dramatic cliffs, making the island a haven for walkers, families and wildlife watchers."