Parents of ill Edwards Syndrome baby seek medical records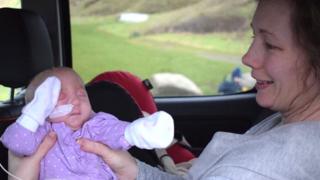 The Aberdeenshire parents of a seriously ill baby girl have expressed frustration at delays in releasing her medical records which they believe could help her get surgery abroad.
Willow Scanlan was born with a heart defect, and was then diagnosed with the genetic disorder Edwards Syndrome.
Her parents, of Auchterless, have been told it is not usual UK practice to offer cardiac surgery to such children.
They say time is against them as they seek possible treatment elsewhere.
Willow's parents, David and Gina, knew from the 20-week scan she had a heart defect.
She was born in Glasgow, and was then diagnosed with Edwards Syndrome a week later.
They have submitted a formal request for Willow's scans and records, so they can explore options for surgery, possibly in America, in the event an operation does not take place in Glasgow.
Mr Scanlan said: "We are having to look at alternatives - there are hospitals in the United States that would operate.
"All of this delay means we cannot pursue other avenues.
"The ideal scenario is Glasgow agree to perform the operation - we have every faith in the team there. They saved her life.
"What we need is the desire to save a disabled child's life."
'Don't have long'
Asked about time pressure, he said: "It's weeks and months, certainly not six months. We don't have long to find a team.
"We are completely worn out, it's very stressful.
"If Willow doesn't make it, we have to know we've done everything for her."
NHS Greater Glasgow and Clyde said in a statement: "This patient is under the ongoing care of her local paediatricians, as is standard practice throughout the UK, in this instance in Aberdeen.
"It is usual clinical practice in the United Kingdom to not offer cardiac surgery to children with Trisomy 18 (Edwards Syndrome). As a result, we have advised the patient's local paediatric team of this and they continue to provide her care.
"There is an existing well-defined process for further review where indicated, under which we can arrange for patients to have further assessments carried out in their local centre by members of our specialist cardiac team from the Royal Hospital for Children in Glasgow.
"Such reviews are initiated and co-ordinated by the local paediatric team."
NHS Grampian said in a statement: "Strict rules on patient confidentiality prevent us from commenting on individual cases.
"Speaking generally, patients (or their parents/guardians) can seek a second opinion if they are unhappy with the course of treatment set out by our clinicians.
"Access to medical records will always be supported in line with current legislation."