Brian McKandie murder trial: Dead man kept 'thousands' in cash at home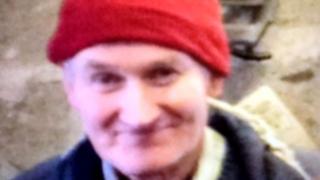 A murder trial has been told that a large sum of money was found in the alleged victim's home after his death.
The High Court in Aberdeen heard bank notes were found bundled and stuffed in sweet and biscuit tins in a bedroom.
Scene examiner John Dingwall agreed with advocate depute Iain McSporran that it was "tens of thousands" of pounds.
Mr Dingwall was called to the house on 28 April 2016, during the inquiry into the death of Brian McKandie.
He was asked to photograph cash found there.
Mr McKandie, 67, was found dead at his cottage at Badenscoth, near Rothienorman, in March 2016.
Steven Sidebottom, 24, denies murder and robbery.
'Not suspicious'
Earlier, Mr McKandie's brother William told the court he was initially informed the death was not being treated as suspicious.
William McKandie said he was on holiday in Australia when he was told his brother was dead.
The 77-year old said: "I just arranged to get back home to see to his burial."
He told the court it was only on his return he was told it was now a murder inquiry.
Mr Sidebottom is alleged to have struck Mr McKandie with an unidentified implement, murdered him and robbed him of money.
The trial also heard from scene examiner Julie Goodeve, who said she was called to take photographs on the evening Mr McKandie was found.
The jury was shown photos of the scene.
Blood-stained body
Ms Goodeve said: "At that stage I think it was being treated as an accident.
"The impression was the gentleman had come by an accident outside and had gone into the house."
The jury was shown several photos of Mr McKandie's blood-stained body lying on his living room floor.
Advocate depute Iain McSporran, prosecuting, said: "It's not pleasant and may be distressing."
Ms Goodeve said the scene was not protected at the time on 12 March 2016.
Scene examiners returned on 18 March, after the death became a murder inquiry following the results of a post-mortem examination.
Ms Goodeve told defence counsel Ian Duguid that all the people who originally attended the scene had to provide elimination samples.
The trial, before Lord Arthurson and a jury of eight men and seven women, continues on Friday.
It is expected to last about three weeks.