Pathologist tells Brian McKandie murder trial of '15 head blows'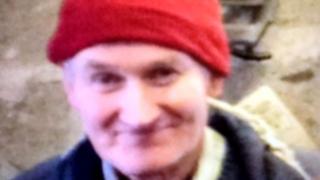 A forensic pathologist has told a murder trial a 67-year-old man suffered at least 15 separate blows to his head.
Brian McKandie was found dead at his home at Badenscoth, near Rothienorman in Aberdeenshire, in March 2016.
Steven Sidebottom, 24, denies murder and robbery and is on trial at the High Court in Aberdeen.
Prof James Grieve told the fifth day of the trial the injuries he saw at the post-mortem examination caused him "alarm".
And he said Mr McKandie may have been alive for several hours after sustaining the injuries.
The trial has previously heard that police were initially working on the theory that Mr McKandie may have had an accident outside and then come into his house.
Prof Grieve was asked to perform the post-mortem examination on Monday 14 March 2016 and started it the following day.
Deep injury
He said Mr McKandie - whose body was found on Saturday 12 March that year - had injuries to his body, arms and head.
The court was shown an animation of what the injuries to Mr McKandie's head would have looked like.
Prof Grieve said the most significant injury was at the rear of the skull on the right hand side.
He said: "This was the part of the head I saw first and seeing this particular injury caused me alarm.
"I was very concerned it was something rather more than an elderly man who might have fallen."
He said the injury was deep, serious and severe, and seemed to be as a result of several blows.
Mr McKandie also had serious injuries on the left hand side of his skull, and in the centre, which Prof Grieve described as blunt force injuries.
He said he contacted CID and the procurator fiscal.
The court heard that a report produced by a neuropathologist discovered red cell changes in the brain which indicated Mr McKandie survived for several hours after the attack.
'Moved himself'
Prof Grieve said he would estimate he survived for at least five to six hours but was not necessarily conscious for all of that time.
He said the victim also moved from the bedroom of his house, where pools of blood were found, and into the living room where he was eventually found deceased behind the door.
Asked by advocate depute Iain McSporran, prosecuting, if he was suggesting Mr McKandie moved there himself, Prof Grieve said: "It seems to be a compelling explanation, in absence of any other explanation."
Prof Grieve also concluded a possible weapon used was solid, moderately but not very heavy, with a straight element.
The court has heard Mr McKandie did car repairs at the garage at his home.
Prof Grieve said it was entirely possible more than one weapon was used, and explained: "It has to be conceded that many of the everyday tools could constitute as potential weapons."
Defence counsel Ian Duguid asked if there was the possibility of more than one weapon, was it possible there was more than one assailant.
Prof Grieve replied: "Correct."
The trial, before Lord Arthurson and a jury of eight men and seven women, continues.