Flooding hits Aberdeen Royal Infirmary dispensary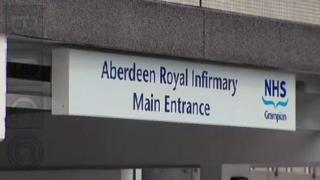 Flooding at Aberdeen Royal Infirmary has caused "considerable damage" to the hospital dispensary.
NHS Grampian said the incident late on Monday evening had hit the ability of pharmacy staff to dispense medicines and would mean delays for patients.
A spokeswoman said: "We will continue to fill all prescriptions.
"It is important to stress that our main pharmacy stock holding area was unaffected and we still have access to a full range of medicines."
The flooding happened in the main concourse area of the hospital, known as the Yellow Zone.
Robots used to assist with dispensing have been taken out of commission.
NHS Grampian said a smaller dispensary is operational at Royal Aberdeen Children's Hospital but it would not be able to match the capacity of the ARI dispensary.
The spokeswoman said: "We can only apologise to patients facing longer waits for their medicines and thank them in advance for their understanding."
The Aroma cafe also suffered flood damage and will be closed until further notice.