Moray agrees 3% council tax rise and jobs set to go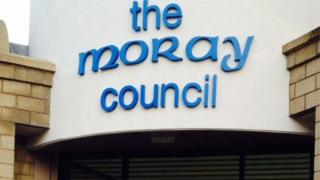 Councillors in Moray have voted to raise council tax by 3% for 2018-19.
The local authority said the rise would generate an estimated £1.2m for services.
However, compulsory job losses are also expected after members agreed cuts of more than £6.5m in the annual budget.
The exact number of redundancies has yet to be worked out, although BBC Scotland understands that somewhere in the region of 50 workers may lose their jobs at Moray Council.
The council said more than £4m from its reserves would be used to balance the 2018-19 budget.
Similar rise
The 3% increase will see council tax for a Band D property in Moray rise by £35.07 from £1,169.05 to £1,204.12.
It comes after Orkney Islands Council provisionally agreed to also increase its council tax rate by 3%.
Discussing the budget for the year ahead, Orkney's policy and resources committee agreed to make cuts of more than £1.7m. The final budget is due to be approved later this month.
In Orkney, a 3% increase would see council tax for a Band D property rise by £32 from £1,068 to £1,100.
In November, the Accounts Commission had found Moray was one of three Scottish councils that could use up their cash reserves within three years.
The public spending watchdog said Moray, Clackmannanshire and North Ayrshire faced running out of spare money for emergencies.
Moray Council leader George Alexander warned the local authority could be "bankrupt". Mr Alexander, an independent councillor, said the bankruptcy warning was "definitely not scaremongering".