The Script shocks Aberdeen buskers with 'random kindness'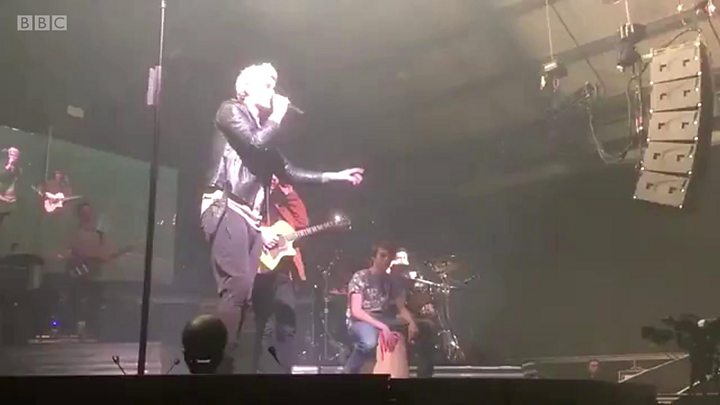 Irish pop band The Script shocked two young buskers after plucking them from obscurity and putting them on stage in a Scottish arena.
Singer Danny O'Donoghue, guitarist Mark Sheehan and drummer Glen Power searched Aberdeen for buskers on "Random Acts of Kindness Day".
When they found music college pals Shay Currie and Chris van der Wal, they invited them to a sound check.
But they ended up performing to 6,000 fans live on stage on Saturday night.
In a Twitter video, Mark Sheehan said they decided to seek out some buskers in order to "make their day".
The band praised the young musicians, saying: "We decided to give them a taste of what can happen if you continue to be epic, work hard and chase your dream."
Big stage
Shay, 18, and Chris, 19, were performing guitar and percussion in their usual spot outside the Bon Accord Centre when they were approached.
The band told them they had started off by busking on the streets of Dublin before finding success.
Chris, a percussionist from Peterculter, told the BBC Scotland News website: "We didn't think it was real.
"They just appeared and stood and listened to us.
"We even play one of their songs, Rain, when we are busking.
"Then they just asked us to come and jam with them at their sound check."
The band asked the pair to come to the Aberdeen Exhibition and Conference Centre to experience a big stage.
But by the time they got to the end of the checks, Danny O'Donoghue had invited them to perform their song The Man Who Can't Be Moved on stage with them that night.
Chris, who is studying to be a music teacher, said: "When we did the song in front of all those people it was only the second time we had played it all the way through.
"It was an amazing experience - we had so much adrenaline afterwards."
Guitarist and singer Shay, from Hazlehead, who fronts a band called Meraki, said it was a life-changing experience.
"I can be a much better frontman for the band now. I've never played in front of so many people like that.
"Danny is the kind of musician I would want to be."
The two had another surprise when the band announced they were collecting for the buskers.
Buckets were passed around the crowd and the band matched what was collected, presenting them with more than £2,000 backstage at the end of the gig.
Shay said: "What an amazing gesture. It's such a great thing for artist like that to go out of their way to help people like us to get on."