Aberdeen FC stadium FoI report request rejected by council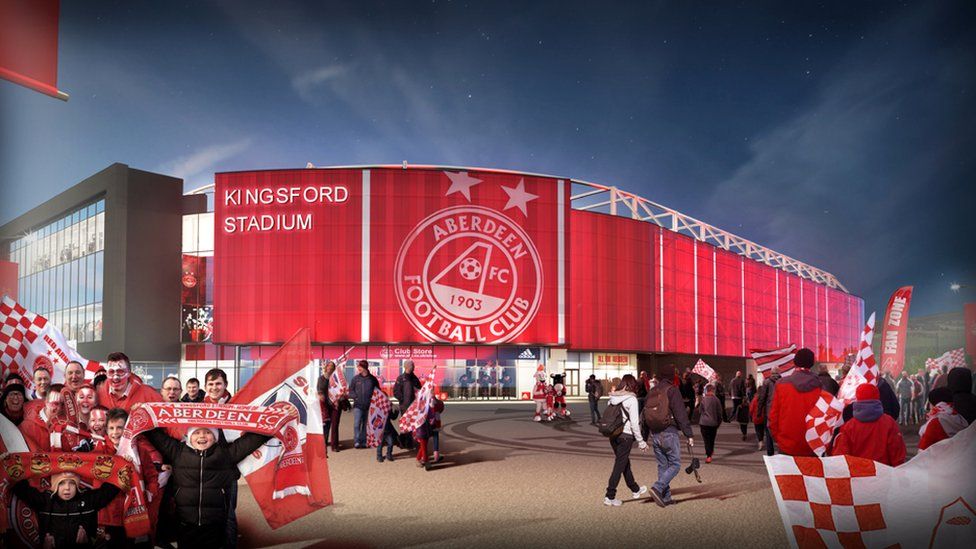 A request to release details of a report believed to show council officials recommending against Aberdeen FC's move to a new stadium has been rejected.
The application was then re-submitted, and was given the go-ahead last month.
Planning convener Marie Boulton claimed she was denied access to an initial report. BBC Scotland then submitted a Freedom of Information (FoI) request.
However the authority said in a reply that no report was ever completed, adding that the disclosure of draft reports could harm the ability of the planning authority to apply its judgement freely.
It said officers were likely to refrain from producing draft reports for internal consultation if they believed that they could be made public at a later date.
Independent Ms Boulton had moved to have the project rejected at the meeting of the local authority in January.
Planning officials recommended it be approved with conditions.
It was given the go-ahead by 32 votes to 9.
The council said in BBC Scotland's FoI reply: "Whilst it had previously been intended to refer the application to the council meeting in October 2017, the application was withdrawn from the agenda at the applicants' request, and no report was ever completed or published at that time.
"Areas within the draft report which officers had worked on in anticipation of referral to the October 2017 meeting were extensively re-worked over time, reflecting the additional supporting information submitted by the applicant and the further representations and consultee responses received in the intervening period, as well as the holding of a second pre-determination hearing, to become the final report published ahead of the 29 January special council meeting.
"Unfortunately, there are some areas of the draft report that cannot be released into the public domain.
"This is because we consider them to be excepted from release under Regulation 10(4)(e) of the Environmental Information (Scotland) Regulations 2004."
Aberdeen FC welcomed the council approval in January, but the No Kingsford Stadium protest group said they would pursue a judicial review.
Aberdeenshire Council had earlier objected to the plans.
It has been claimed the stadium and training ground would create more than 400 jobs and bring millions of pounds into the local economy.
Objections have been raised on grounds including potential traffic issues and loss of green belt land.
Related Internet Links
The BBC is not responsible for the content of external sites.