Woman tells Fraserburgh murder trial of 'crowd armed with weapons'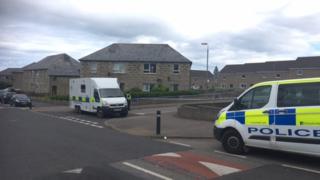 A woman has told a murder trial that she saw a crowd armed with weapons around a man the night he died.
Gary Clampett, 39, died after an incident in Fraserburgh last June.
John Henderson, 47, Gary Martin, 37, Joseph Martin, 40, Thomas Martin, 45, David Graham, 46, Barry Martin, 32, James Connor 52, and Dean Leech, 25, deny murder.
Rena Sutherland told the High Court in Glasgow: "I saw a crowd of people round him."
The witness said: "I didn't see much from where I was. I saw someone with a claw hammer in their hand. I just saw a hand up in the air.
"I couldn't see Gary properly for the crowd."
The men are accused of using knives, a machete, a sword, a chain, a hammer, a crowbar, a wrench, a stick, bats, golf clubs, poles and a metal bat.
The trial before judge Lord Beckett continues.