Wind turbine project off Aberdeen takes major step forward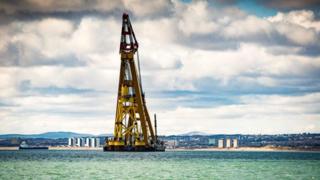 A North Sea wind turbine development off Aberdeen which was opposed by Donald Trump has taken a major step forward.
A total of 11 turbines will make up the European Offshore Wind Deployment Centre (EOWDC).
Energy firm Vattenfall is behind the project.
The 25,000-tonne Asian Hercules III has installed the first 1,800-tonne suction bucket jacket foundation, an operation taking 15 hours.
'Secure foundation'
Adam Ezzamel, EOWDC project director for Vattenfall, said: "The first installation of the suction bucket foundations is a major accomplishment.
"Suction bucket jacket foundations are lowered into the water where the upturned buckets are rapidly embedded into the seabed to create a secure foundation for installation of the world's most powerful wind turbine later this spring."
Mr Trump battled unsuccessfully in the courts to halt the project before he became President of America.
He argued that the wind farm would spoil the view from his golf resort at the Menie estate on the Aberdeenshire coast.