Donated University of Aberdeen painting 'is £2m Canaletto'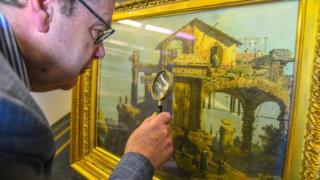 A painting gifted to the University of Aberdeen more than 150 years ago is a work by Canaletto worth up to £2m, it has been claimed.
Charles Beddington, an expert on the 18th century Venetian artist, and John Gash, a senior lecturer in History of Art at the university, have identified the unsigned work as 'The Ruins of a Temple'.
Mr Gash said: "I would suggest it could be worth between £1.5m and £2m."
The plan is for a public display.
The findings have been published in The Burlington Magazine, a journal on fine arts.
It is understood the picture was left to the university in 1863.
'Surrogate signature'
Mr Gash said: "It was often thought to be from the Canaletto school - that is, by one of Canaletto's pupils or someone imitating his style.
"However I and others have long suspected it was a real Canaletto and now we have been able to confirm this.
"It is clear from the technique and the style, as in the language of forms and composition, that this is a Canaletto and is in fact an autograph work of the highest quality."
The painting not being signed by the artist is said to be not uncommon.
Mr Gash continued: "Occasionally, Canaletto did sign his works but not in this example.
"However in the middle of the painting is a ruin which displays the coat of arms of his family. It's unlikely someone else would include that, so it acts as a kind of surrogate signature."