Insch hotel targeted in 'petrol bomb attack'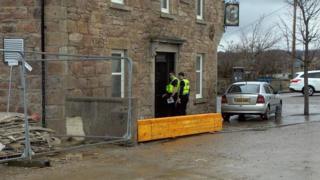 Police have started an investigation into whether an Aberdeenshire hotel was the target of a failed petrol bomb attack.
A window was smashed at the Station Hotel in Insch. A container of petrol and a length of rag were discovered later.
The incident happened overnight between Monday and Tuesday.
No-one was injured, and the petrol did not ignite. The hotel's owners said it was "a sickening criminal act".
On their Facebook page, they said a five-litre container full of fuel with a cloth tied around the handle had been thrown into the building.
They urged anyone with information to contact police, and promised that a "substantial" reward was on offer.