Bid to halt wild salmon decline in Moray Firth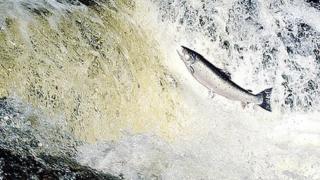 A major project to tag and track wild Atlantic salmon in a bid to halt a decline in the species is being launched from the Moray Firth.
The Atlantic Salmon Trust (AST) wants to understand why the UK's wild salmon population has fallen by an estimated 70% in the last 25 years.
About 20% of all salmon that leave for the open sea originate from the Moray Firth.
Juvenile salmon will be tagged and tracked.
It is hoped lessons learned from the Missing Salmon Project can be used to help other populations of salmon around the UK.
'Meaningful impact'
AST executive director Sarah Bayley Slater said: "Salmon have been around for more than 60 million years, but their future looks very bleak indeed.
"If the decline we've seen across the Atlantic and in Scotland continues, the wild Atlantic salmon could be an endangered species in our lifetime.
"In launching the Missing Salmon Project, we are making our stand now and giving our generation a chance to save the species before it's too late."
The fish will be recorded as they pass through certain points, which will help to determine how many of them make it to the ocean and where it is that they are dying.
Organisers are aiming to raise £1m to support the tracking project.
Dr Matthew Newton, tracking co-ordinator for the AST, said: "If we're going to have a meaningful impact on reversing the Atlantic salmon's decline, we need to tag and track fish on a scale never seen before in Europe.
"Too many times, humanity has acted too late when a species is in decline."