Murder accused says he killed Gary Clampett in Fraserburgh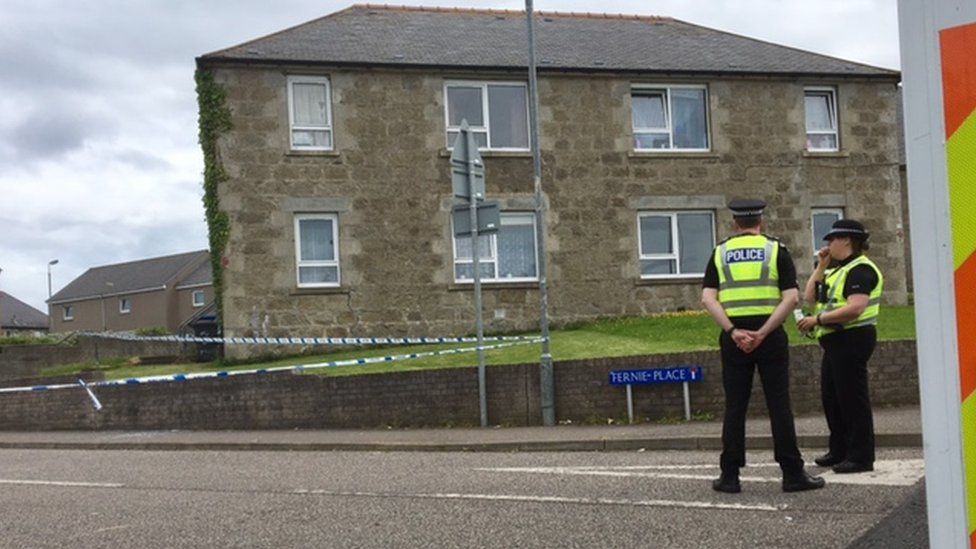 A murder accused has told a jury that he did not mean to kill a 39-year-old man in Fraserburgh when he struck out with a knife.
Seven men deny murdering Gary Clampett by attacking him with an array of weapons in Fraserburgh last June.
John Henderson, 47, told the High Court in Glasgow he saw blood on the knife.
Gary Martin, 37, Joseph Martin, 40, Thomas Martin, 45, David Graham, 46, James Connor, 52, and Dean Leech, 25, are the other six accused on trial.
They allegedly hit Mr Clampett him with knives, a machete, a sword, a chain, a hammer, a crowbar, a wrench, a stick, bats, golf clubs, poles and a metal bat at Fernie Place on 18 June.
Jurors heard he went, armed with a knife, to the scene after hearing about an alleged incident.
Defence counsel Keith Stewart QC asked Mr Henderson why he took knife with him and he said he was "scared".
Mr Henderson described a scene of "bedlam".
The court heard he was chased by a woman who saw he had a knife, and while running away lashed out at Mr Clampett.
Mr Henderson said he realised quickly afterwards that he had stabbed Mr Clampett when he saw blood on the knife, and that the incident has "ruined many lives".
He said he heard later that morning that Mr Clampett was dead.
Mr Stewart asked: "Can you describe your attitude, learning of Mr Clampett's death?"
Mr Henderson fought back tears as he replied: "There's a lot of things going through your mind.
"You've taken somebody's life."
Mr Stewart continued: "How did you feel about that?"
Mr Henderson answered: "Worse than I have ever felt in my life."
He was then asked: "Had you intended to take Mr Clampett's life?" and replied: "No."
The trial, before judge Lord Beckett, continues.