Plea to fishermen after seal is killed by dumped net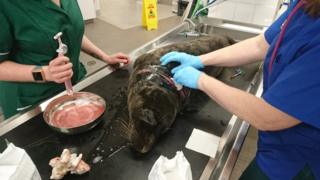 An animal welfare charity has urged fishermen to clear up their rubbish after a seal was killed by dumped fishing wire.
The distressed animal was spotted by a member of the public at Peterhead power station on 16 March with the plastic net embedded in its neck.
But despite being treated for a deep wound, the seal died the next morning.
Now the Scottish SPCA is urging fishermen to take equipment away with them to avoid wildlife dying.
Animal Rescue Officer Kyle McWhirr said: "The fishing wire had wrapped tightly around the seal's neck and cut deep into his skin.
"After a bit of a fight, I managed to get him into my van and took him immediately to the vet to have his deep wound looked at. After arriving at the vet he had his wound cleaned and antibiotics and painkillers were administered.
"Sadly, the seal had not been spotted quickly enough and he died from a seizure the following morning.
"The vast majority of fishermen are very responsible and take care to clear away their equipment after they've used it. However, we want to remind anyone fishing not to leave their litter as they could kill wildlife by doing so."