First Aberdeen bus drivers vote for all-out strike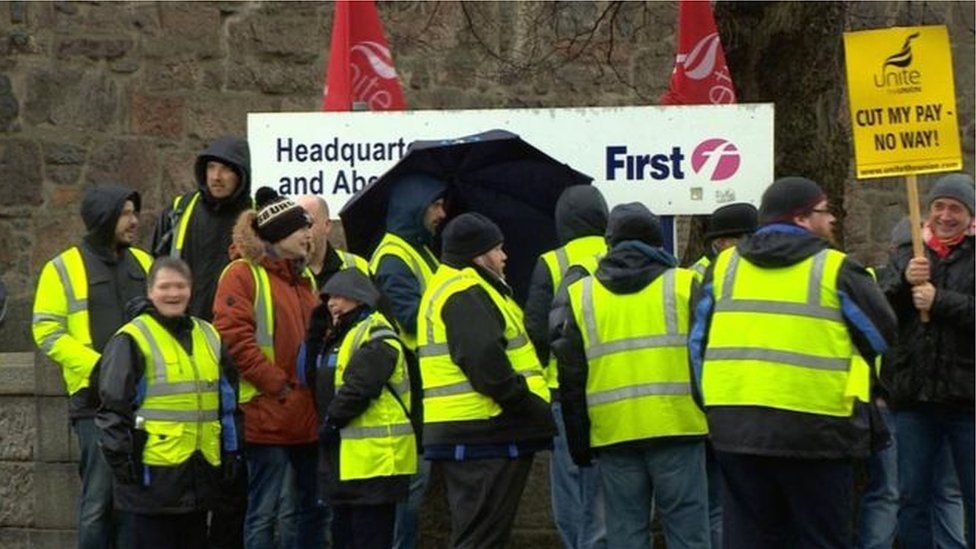 Bus drivers at First Aberdeen have voted to reject a deal in their terms-and-conditions dispute with the company.
In the ballot, 58% of drivers voted against the offer. An all-out strike is due to begin on Wednesday.
Strike action was suspended last week after the deal emerged from talks involving conciliation service Acas.
The drivers' union, Unite, said they would continue to make every effort to reach a settlement.
Willie Wallace from Unite said: "The union members have spoken. And they have said loud and clear that they are not prepared to accept the current proposals from First.
"The company has to recognise that and get back round the negotiating table and make an improved offer.
"We are ready to negotiate. The indefinite strike starts Wednesday."
The bus operator has called the vote "very concerning".
First Aberdeen Operations Director David Phillips said: "This agreement was reached with the Unite the Union representatives via the ACAS collective conciliation talks, where management were extremely transparent about the precarious financial position that the company finds itself in.
"During these talks, we were absolutely clear that this was the best and final offer on the table despite the current reality of the situation facing the business in the city.
"We were willing to go to these extra lengths to get the city's bus services back to normal and end the disruption, so to see this voted down via ballot is very concerning indeed.
He added: "The company will now need to take some time to digest this result and to weigh up the next steps as the costs to the business and falling revenues we are currently enduring simply cannot be sustained."