One man hurt after building site accident in Aberdeen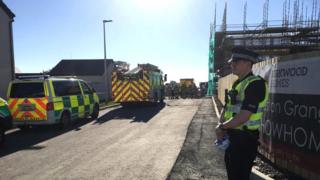 A man has been taken to hospital after an industrial accident at a building site in Aberdeen.
The emergency services - including a fire major incident unit - were sent to reports of a partial building collapse at Charleston Road in Cove shortly after 08:30.
Stewart Milne Homes said no structure had collapsed but that it appeared some material had fallen in the building.
The sub contractor was taken to Aberdeen Royal Infirmary.
The extent of his injuries are not yet known.
John Low, managing director of Stewart Milne Homes, said: "Our thoughts are with this individual and we, along with his own employer, will be monitoring his condition and providing every support to him and his family.
"We can confirm that no structure has collapsed but it would appear that some material has fallen within the building.
"We've got our full HSE team on-site to make sure it is safe and secure. Once that has been ascertained, we will begin an investigation to find out what exactly happened."