First European Offshore Wind Deployment Centre turbine installed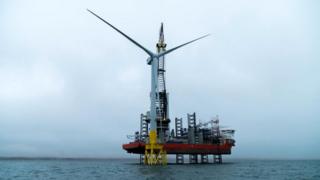 The first turbine has been successfully installed for a major North Sea wind power development off Aberdeen which was opposed by Donald Trump.
A total of 11 turbines will make up the European Offshore Wind Deployment Centre (EOWDC).
Mr Trump battled unsuccessfully in the courts to halt the project before he became US president.
He argued that the "ugly" wind farm would spoil the view from his golf resort at the Menie estate.
Energy firm Vattenfall is behind the EOWDC project.
It is estimated the wind farm will produce the equivalent of more than 70% of Aberdeen's domestic electricity demand.
Gina Hanrahan, acting head of policy at WWF Scotland, said: "The installation of the first of these powerful turbines at Aberdeen Bay is another milestone in Scotland's renewables story."