Australian suicide prevention charity to share ideas with Scottish group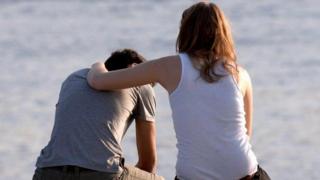 An Australian suicide prevention charity is to share ideas with a north east of Scotland awareness group after learning of its efforts to help men going through a relationship break-up.
Choose Life found men accounted for about 80% of people taking their own life in Aberdeen and Aberdeenshire.
Failing relationships played a significant part in a majority.
Parents Beyond Breakup saw the BBC story and made contact with Choose Life in the hope of preventing deaths.
Choose Life had appealed for men to suggest how support services can help.
'Situational distress'
Pete Nicholls, chief executive of Parents Beyond Breakup, told the BBC Scotland news website from Australia: "As soon as I saw the BBC article, I wanted to speak to Choose Life.
"We've been hugely successful in limiting male suicide post-separation and wanted to make contact to discuss sharing of best practice.
"Male suicide is considered as a mental health issue but we are finding most male suicide is situational distress. I went through this myself.
"However, if you show them how to navigate through it then they do not take their own life. If you sit down with peers, they stop being suicidal."
'Significant connection'
Choose Life Aberdeen and Aberdeenshire co-ordinator Iain Murray said the contact from Parents Beyond Breakup in Australia was a "significant connection".
He explained of their current campaign: "During April we're gathering questions, thoughts and experiences through the Choose Life Prevent Suicide North East Scotland Facebook page and also we've set 10 locations in Aberdeenshire and the city where people can physically drop off their comments.
"What we've discovered having looked at some data is that males in particular seem to really struggle with relationship break-ups, and in relation to suicides in the north east, that's one of the most prominent factors we've noticed."
If you are feeling emotionally distressed and would like details of organisations which offer advice and support, go online to bbc.co.uk/actionline or you can call for free, at any time to hear recorded information 0800 066 066.