Aberdeenshire Council scraps plans to move HQ from Aberdeen to Inverurie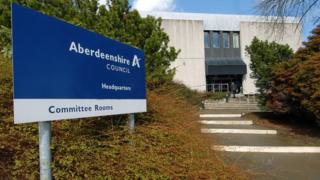 Aberdeenshire Council has scrapped plans to move its headquarters from Aberdeen to a new building in Inverurie.
Aberdeenshire is the only local authority authority in Scotland to have its headquarters outside its boundary.
Last January, councillors agreed to move forward with plans to relocate the authority's headquarters to a purpose-built facility at Harlaw in Inverurie.
Councillors have now voted to stay at the existing offices at Woodhill House.